Safy Bag (only 85 on stock)
BEST OPPORTUNITY - ONLY MINIMAL MISTAKES (small scratch) ON THE PRODUCT FOR THE BEST PRICE !!!
(visible only from close up)
3 Digit Lock
Durable, Steel Enforced Strap
Cut and Water-Resistant
Quick RFID-Protected Pockets     
A great opportunity for anyone who doesn't have a problem with a small scratch on a new product.  Everything works great!!! In the first production, only some scratch appeared on 85 pcs (take a look at the pictures) There is only one small scratch in each product!
Where can I Find MISTAKES?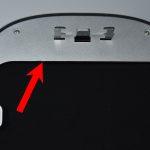 minor scratch on the frame, or
minor scratch on the lid, or
minor scratch on the inside of the Safy bag
Because of this, we have totally reduced the price.
Grab the opportunity to make the best purchase !!!